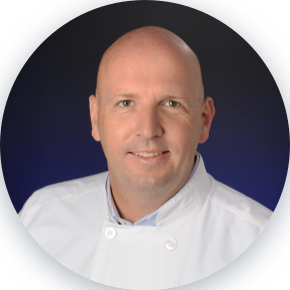 Jens Dahlmann was named Vice President of Culinary Development and Corporate Executive Chef for Olive Garden in December 2018. In this role, he oversees the research, development and evolution of Olive Garden's core and promotional menu items, leading a team of professional chefs to create abundant, craveable Italian food. Olive Garden is a leader in the casual dining segment — a brand with 860 restaurants, 80,000 team members and $4 billion in annual sales.
Chef Dahlmann began his career at Darden in 2016 as Vice President of Culinary Development and Corporate Executive Chef for LongHorn Steakhouse, where he led menu development and inspired excellence in food quality and execution in more than 480 restaurants across 40 states, generating more than $1.6 billion in annual sales.
Prior to joining Darden, Chef Dahlmann held key positions at the world-renowned Walt Disney World Resort where he led two signature restaurant concepts, Flying Fish Café and California Grill, before overseeing the global assortment of dining options at Epcot as the theme park's Executive Chef and General Manager. In his 30 years in the restaurant and hospitality industry, he gained experience from around the world through culinary positions at leading hotels in Germany and Switzerland, on-board luxury cruise ships sailing throughout Asia and the Mediterranean Sea, and at the critically-acclaimed New York City restaurant, Le Cirque and Café L'Europe, Palm Beach, Fla.
Chef Dahlmann was classically trained in Düsseldorf, Germany, and graduated with honors from his three year culinary apprenticeship.