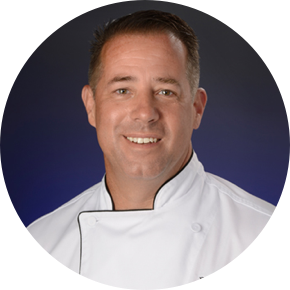 Ray Comiskey is Executive Chef at Eddie V's. He leads the research, conceptualization and development of its signature food and beverage menu, creating an indulgent dining experience for guests. Chef Comiskey has served as vice president and corporate executive chef for Eddie V's since 2014.
Having spent more than 30 years in the restaurant and culinary industries, Chef Comiskey has dedicated most of his life to creating unique and unforgettable experiences around food and drink. A high school vocational course allowed him to assist in the running of a licensed restaurant, providing him the rare opportunity to rise as a kitchen supervisor by the time he graduated. He attributes this experience to discovering his passion.
Furthering his education, Chef Comiskey earned an associate's degree from The Culinary Institute of America in New York and a bachelor's in Hotel and Restaurant Management from Johnson & Wales. He has worked in many restaurants over the years, including his role as corporate executive chef for Morton's in Chicago, and 14 years as executive partner chef for The Capital Grille in Kansas City.
In his personal time, he leads a Cub Scout pack of 67 young boys, teaching them everything from how to cook to camping skills.