Conserving Energy & Water
We began tracking our energy and water usage in 2008 and we continue to focus on managing energy and water conservation efforts.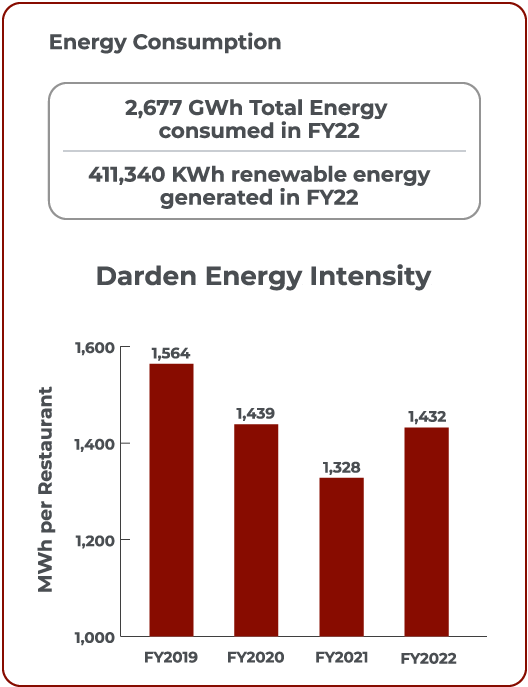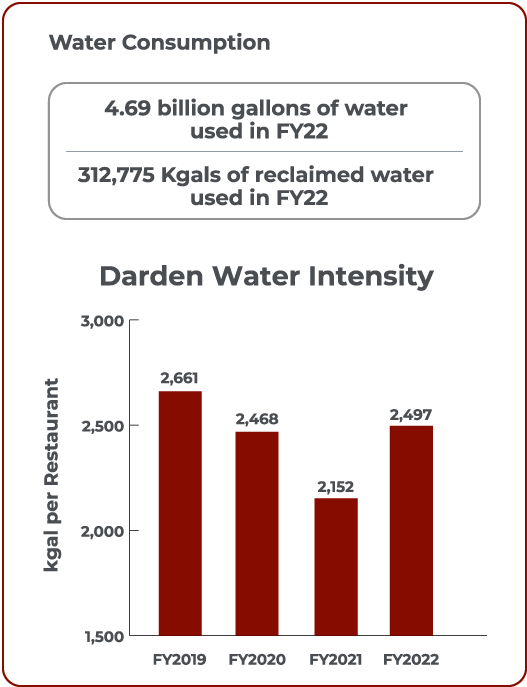 *Year over year reductions in 2020 can be attributed directly to COVID-19 impacts and therefore reductions to energy and water use. Pre-COVID, we were on track with maintaining water efficiency in restaurants and slight reductions in energy use on average.
Operating Efficient Restaurants
As we continue to grow and build new restaurants, we remain committed to energy and water efficiency as part of our restaurant designs. That is why we design our restaurant prototypes using industry best practices, ensuring that each new Darden restaurant is outfitted with a wide range of features that optimize energy efficiency, water efficiency, recyclables and clean air.
WATER EFFICIENCY
Water Efficient Landscaping
Drip Irrigation System
Hands-Free Faucets
Low-Flow Sinks
Low-Flow Flush Valves
RECYCLABLES & CLEAN AIR
Storage & Collection of Recyclables
Low Emitting Materials
No Smoking In/Around Restaurants
ENERGY SAVINGS
Exterior Light Pollution Reduction
Daylight Harvesting
LED Interior Lighting
Lighting & HVAC Controls
Reduced Heat Island Effect
---
Leveling Up Efficiency at Existing Restaurants
With more than 1,900 restaurants, we recognize the impact that we can make by continuing to optimize energy and water conservation efforts within our existing buildings. To enhance our existing restaurants, we have:
Tested advanced kitchen equipment in more than 30 restaurants during fiscal 2023 that helps reduce energy consumption
Transitioned to LED light bulbs in our kitchens, dining rooms and exterior areas — which are 10 times more efficient than incandescent bulbs and last up to 20 times longer
Standardized our "Power On, Power Off" approach by training restaurant teams to wait to turn on equipment until absolutely necessary, helping us save energy
Implemented new processes for washing floors, inspecting for leaks and managing water usage
Installed Energy Management Systems in most of our restaurants that enable us to better monitor and control temperature, lighting, and refrigeration and, in doing so, to use energy more efficiently and cost-effectively
Used water-saving equipment including low-flow faucets, pasta-cookers, and heated dipper well equipment that results in annual savings of approximately 30,000 gallons of water per well
Expanded usage of water-efficient landscaping and drip irrigation systems
Invested in the highest efficiency HVAC equipment available that meets our design criteria
Our LEED Gold-Certified Restaurant Support Center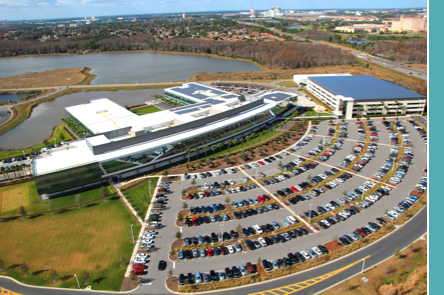 Built in 2009, our headquarters serves as a testament to our commitment to sustainability. The structure houses our Restaurant Support Center team and was designed to achieve LEED Gold certification for New Construction.
Key Sustainability Features
 
Energy Efficiency
A 4,572-panel solar array which provided 411,340 KWh of renewable energy in fiscal 2022
An automatic lighting system that dims or brightens based on the level of sunlight which reduces energy consumption by 16%
A highly reflective roof system that reduces the heat island effect and helps maintain the building's interior temperature
A four-story, 1,050-space parking garage, to minimize the heat island effect of extensive open parking lots
Water Conservation
Restrooms and irrigation systems using reclaimed water — saving nearly 2 million gallons of water annually
Landscaping features, including a bio-soil that promotes water absorption
Use of native trees, plants and grasses that filter and slow runoff water
Waste Reduction and Recycling
Recycled components included in 10% of building materials
A single-stream recycling system that diverts nearly 12 tons of trash from landfill monthly
Double-sided printers and copiers, which have reduced our paper use by 33%
Air Quality
Low- or no-VOC paint, carpet and sealants (VOC = volatile organic compounds, i.e., harmful fumes)
HEPA filters in the air ducts to minimize airborne allergens
Cleaning partners that use only "green" cleaning products and techniques