Living Our Food Principles
We know that where our ingredients come from and how they are grown are integral to preparing great food for our guests. Darden's Food Principles are our foundation for sourcing food for our guests sustainably.
$2.2 billion
in food products per year
In 38 different countries
Beef (18%)
Produce (14%)
Seafood (10%)
Poultry (7%)
Pork (4%)
Our Food Principles
Great food starts with quality ingredients...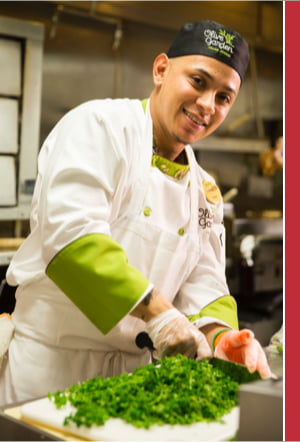 We recognize that where our ingredients come from and how they are grown are integral to preparing great food for our guests.
Food safety has always been our top priority, and we promise to use ingredients that meet our high standards for safe, wholesome food. To do that, we continue to implement best-in-class food safety and total quality programs, both in our restaurants and with our suppliers, every day. We are also mindful of the sustainability of ingredients, including the social and environmental benefits of the food we buy.
We are also committed to empowering our guests to make informed decisions about the food they eat by providing information about nutritional content and allergens.
...that are sustainably sourced.
We support a broad community of farmers, ranchers and other suppliers who work hard to help us bring great food to our tables. Given our mutual interests, we expect our suppliers to share our commitment to doing business the right way.
As we source our ingredients, Darden maintains our Supplier Code of Conduct, which outlines our expectations for our suppliers in areas such as ethical business practices; anti-corruption; human rights and labor laws; environmental, health and safety practices; and legal compliance.
Darden takes animal welfare very seriously. We have a responsibility to ensure that animals are treated with respect and care in the process of providing nutritious food that is served in our restaurants. Our approach to animal welfare and auditing our suppliers is to ultimately ensure the 'Five Freedoms' of care throughout the life of farm animals. This guidance on humane animal treatment directs our practices as well as our selection of, and relationship with, sourcing partners.
---
Our Food Principles Commitments
We continually engage with our suppliers regarding our Food Principles and commitments to our guests and have reviewed these important values with them. As we make progress in these areas, we will continue to share updates. (New restaurant brands that join our portfolio are fully integrated into our Food Principles commitments within five years from acquisition.)
Antibiotics: Darden requires its suppliers to comply with the FDA guidelines which recommend that antibiotics that are important in human medicine no longer be used with farm animals for growth purposes, and shared-class antibiotics (i.e., those used by both humans and animals) only be used to treat, prevent and control disease in farm animals under the supervision of a veterinarian. We will continue to monitor compliance that all of our land-based protein supply meets these guidelines. In addition, Darden is committed to purchasing chicken raised without the use of medically important antibiotics by 2023.
Animal Welfare: Our goal is that Darden's suppliers will contribute to measurable, continuous improvements in animal welfare outcomes by 2025 as outlined in our Animal Welfare Policy.
Pork: Since 2016, Darden has committed to work with pork suppliers to limit the use of gestation crates for housing pregnant sows, with a goal to source only gestation-crate free pork by 2025. The majority of our suppliers today have made a commitment to housing improvements.
Eggs: 100% of all egg products purchased by Darden are sourced from cage-free housing systems.
Nutritional Transparency: As the needs of our guests evolve, we are committed to transparency in our recipes, ingredients and nutritional information – so our guests can make informed dining decisions and ensure that their dietary restrictions and preferences are accommodated.
---
Advancing Sustainability in the Beef Industry
Beef comprises one of the largest portions of our food basket, with more than 90% of Darden's beef coming from the United States and the remaining supply from Canada and Australia. Advancing sustainability in the beef industry is essential for all stakeholders in the beef value chain and, while Darden is and will remain a relatively small buyer within the total beef market, we are committed to helping find solutions that reduce the environmental impacts of beef production and support the livelihoods of beef producers.
We work to promote continuous improvement in beef sustainability through:
Our participation as a founding member in the U.S. Roundtable on Sustainable Beef to support priority areas established across the beef value chain, including animal welfare indicators
Our membership in the National Cattleman's Beef Association
Supporting industry-wide assurance programs such as Beef Quality Assurance (BQA)