Ensuring Food Safety & Quality
The health and safety of our guests and team members has always been our first priority. That is why we have a dedicated team of Total Quality experts responsible for overseeing our robust food safety and restaurant cleanliness practices.
Our Total Quality Program
Our restaurants serve more than one million guests every day, and we value the trust that they have in our brands. Our Total Quality program protects the dining experience we offer – and it starts well before we put food on the plate.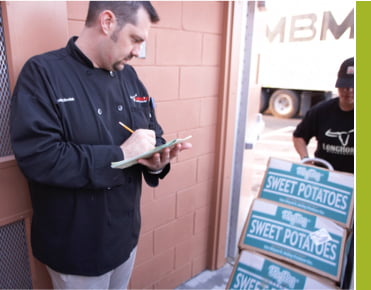 Using a risk-based approach, we focus on ensuring food safety and food quality standards are upheld at every step of our supply chain. We conduct thorough supplier and product evaluations and only purchase products that meet or exceed our quality specifications. We also follow the comprehensive Hazard Analysis Critical Control Point (HACCP) food safety programs adopted by the U.S. Food and Drug Administration. These programs focus on preventing hazards that could cause food-borne illnesses, and we implement measures at every touchpoint from farm to fork to protect against potential risk to our guests and team members.
A dedicated team of experts brings our Total Quality program to life every day, including food and nutritional scientists, registered sanitarians, environmental health specialists and former health inspectors. We also regularly partner with local health officials and regulatory agencies on food safety issues and consult on best practices with David W.K. Acheson, M.D., F.R.C.P., a former U.S. Food and Drug Administration Associate Commissioner for Foods.
100% of our 1,850+ restaurants are audited every quarter to ensure that our food safety protocols are upheld.
Out of 265 Class 1 FDA and USDA Food Recalls in fiscal 2022, only four impacted our restaurants.
---
Our Process
Farm
We require third-party audits to ensure that our Animal Welfare Policy is upheld.
Supplier
We conduct rigorous evaluations to verify food safety procedures and product quality.
We hold all partners accountable to our Supplier Code of Conduct.
Our Total Quality team and third-party partners perform ongoing audits every year to ensure food safety and product quality.
Distribution Center
Third parties perform annual food safety audits to verify a safe distribution environment.
Restaurant
Restaurant leaders are thoroughly trained on our robust food safety and restaurant cleanliness practices and conduct in-depth walk-throughs twice each day.
We use a third-party partner to conduct quarterly inspections at every restaurant to validate our strict food safety protocols.
We continue to deploy technology that validates HACCP measures and enables real-time response by our Total Quality team when needed.
Advancing Food Safety in the Restaurant Industry
We work diligently to remain at the forefront of advancements in food safety and serve as a thought leader to drive progress. That is why we participate in the following:
Beef Industry Food Safety Council: This group shares the latest research around food safety risks and advancements in the beef industry. Recently, our Total Quality leadership played a key role in updating best practices for ground beef production.
Conference for Food Protection (CFP): This nonprofit organization invites input from members of industry, regulatory, academia, consumer and professional organizations regarding food safety laws and regulations. Darden's Total Quality team lends their expertise to the food safety standards development process and helps shape future guidance and regulation.
International Association of Food Protection (IAFP): Darden collaborates with other industry professionals and regulators in this forum, which helps advance food safety worldwide through the ongoing exchange of information to protect the food supply.
National Environmental Health Association (NEHA): Darden's Total Quality experts participate in this network of professionals committed to advancing the field of environmental health.
National Restaurant Association Quality Assurance Executive Study Group and Expert Exchange Gatherings: Along with other food safety and quality assurance leaders in the restaurant industry, Darden participates in these work groups regularly to discuss the latest insights from the Food and Drug Administration, emerging issues, technological advancements and more.
National Retail Federation Food Safety Task Force: Featuring executives in food safety from among NRF's chain restaurant, grocery and other food retail members, this task force provides a forum for members to share best practices on food safety. Most recently, Darden's Total Quality leadership provided key input on the Food and Drug Administration's proposed rule for traceability requirements on high-risk foods.
Retail Food Safety Advisory Group: This organization plays a key role in advising the Association of Food and Drug Officials, National Environmental Health Association, Conference for Food Protection, and the National Association of County and City Health Officials. As an active participant, Darden helps represent the retail food industry in advancing retail food initiatives and activities to help decrease cases of foodborne illness.